That's right! For the first time in fifty years, Staten Islanders will be able to enjoy beer, brewed right here on Staten Island. Flagship Brewery, set to open up its doors in a few short weeks, is about to revive Staten Island's rich beer-brewing history, offering up a new taste and a new scene to Staten Island's North Shore.
Making History
A Staten Island trio is about to join the likes of Bechtel's, Bachmann's, and The Atlantic Brewing Co. as part of a long history of Staten Island breweries, dating back to the 1850's. Born and raised on Staten Island's North Shore (West Brighton, to be exact), these childhood friends are reuniting to open the first brewery the Island has seen since the 1960's.
And their goal is to make a beverage and a brewery that is all about Staten Island.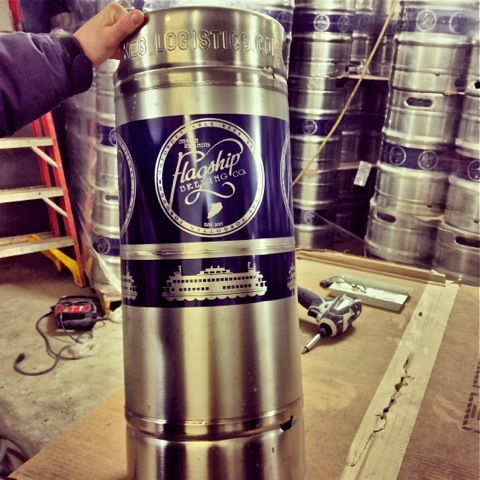 'Staten Island, Born and Raised'
These Staten Island natives have successfully transformed their passion for beer brewing into a tasting experience that combines the history, personality and unique culture of Staten Island.
Years ago, Jay Sykes, operations manager, envisioned a place where Staten Islanders could walk in, enjoy a beer, and actually see and experience the process and business behind the beverage. Sharing his vision with his childhood friends, who also happen to be passionate about brewing, what was once a "vision" has now become a reality.
But their passion is not just about finding, creating and brewing a unique taste to call their own. Their passion is also rooted in their personal history and the history of their borough, which they take much pride in. It is this aspect of Flagship Brewery that makes it so unique.
Flagship hopes that their beer will become the "official beer of Staten Island," and for very good reason. Everything down to the colors of the logo, the décor in their space, even the hops used to give their beer its unique flavor and aroma; all of it exhibits Staten Island tradition and taste. That's right, even some of the hops are grown on Staten Island's North Shore.
Flagship will be offering three different home-brewed beers to start, each with a unique, Staten Island taste. In fact, master brewer Patrick Morse toured the island to experience the culture and the preferences of its residents in order to deliver a taste that perfectly represents the borough. Among the brews, all 'Staten Island Born and Raised' (which happens to be the Flagship logo), will be an American Wit Beer, an American Pale Ale, and a Dark Mild.
 'Hop' on down
Located at 38-40 Minthorne Street, right near the corner of Bay Street and Victory Boulevard, Flagship Brewery is literally just a "hop" away. On-site parking, the bus route along Victory Boulevard, and the Tompkinsville stop on the Staten Island Railroad all make for easy access by car or public transportation.
Once at the brewery, the Flagship trio hopes to offer more than just a product; they hope patrons will enjoy what they experience here as well. Besides beer, views of the glass- encased tasting room (with a full view of the fermenters), access to the 'brew master' and the owners, gigs by local bands and tours of the 13,500 square foot facility are also on tap.
When the brewery is not open for business, Flagship hopes to rent out their space to different groups or individuals who are looking to provide community programs, meetings and events.  In fact, they have already had inquiries about weddings and other such events taking place at the brewery. Between the community events, the action of the brewery, and the tours they plan to providing residents and tourists, Flagship Brewery hopes to become a vital part of Staten Island's North Shore.
With a current distribution deal with Phoenix Beverages, Flagship also hopes to bottle and distribute their brew to the entire tri-state area, bringing Staten Island's newest brew to an even larger crowd.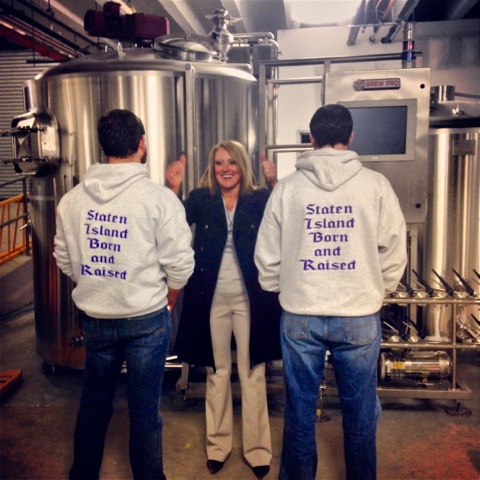 Here's to The Flagship Brewery (link: theflagshipbrewery.com); another reason to move to Staten Island's North Shore. If you are looking to buy a home on Staten Island and want to know more, please don't hesitate to contact me on Facebook  or Twitter. Even better, my website is full of helpful information about the different North Shore neighborhoods,  local businesses, news and events. Don't forget to check out North Shore Buzz  for video interviews and home-buying tips.
There are two kinds of Real Estate professionals…those who understand the emotional and financial complexity of selling and buying a home…and those who don't.
I hope to meet up with you soon!