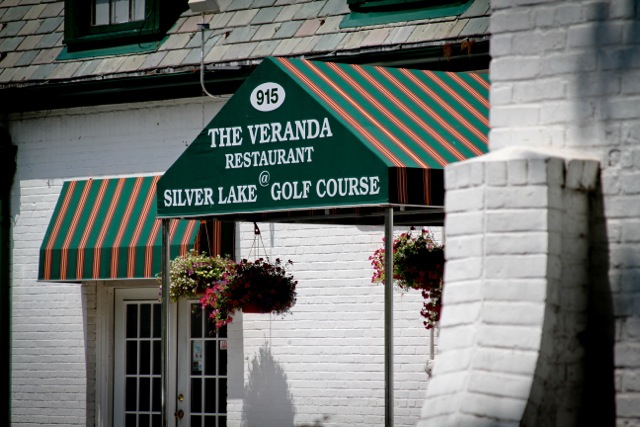 In the dead of winter, the last place you'd probably imagine yourself at is Silver Lake Golf Course. However, this time of year might be the perfect time to become acquainted with one of Staten Island's most charming dining spots, The Veranda Café.
Located at 915 Victory Boulevard in the Silver Lake section of Staten Island, The Veranda Café can be found on the grounds of the Silver Lake Golf Course. But the Veranda Café isn't just for club members. Open to the public, this restaurant offers breakfast, lunch and dinner, contains a full bar, provides catering, and can host both indoor and outdoor private parties and events.
With one main dining room, a bar area, outdoor dining and event locations as well as a private room for small dinner parties, the Veranda Café has features that are appealing to many. The main dining space is corralled by a wooden partition, contains a charming fireplace, and provides a stunning view of the golf course through beautiful glass windows.
The Grill Room and Bar is located to the left of the dining area, and serves as a casual and sports-minded retreat for both golfers and those looking for a relaxed and informal refuge. One private room is available for small dinner parties and events, and Glass French doors swing open from the main dining area onto a beautifully crafted stone-lined terrace.  Also outdoors is a reception area under a large tent, suitable for weddings and formal events.
As a full service restaurant providing both American and Italian dishes, the menu offers a variety of foods that appeal to any taste. Although they are affordably priced and family friendly, the Veranda Café has more to offer Staten Island than great food. What I find so unique about the Veranda Café is that it will provide you with a whole different dining experience, all depending on what time of year you visit.
Perfect, any time of year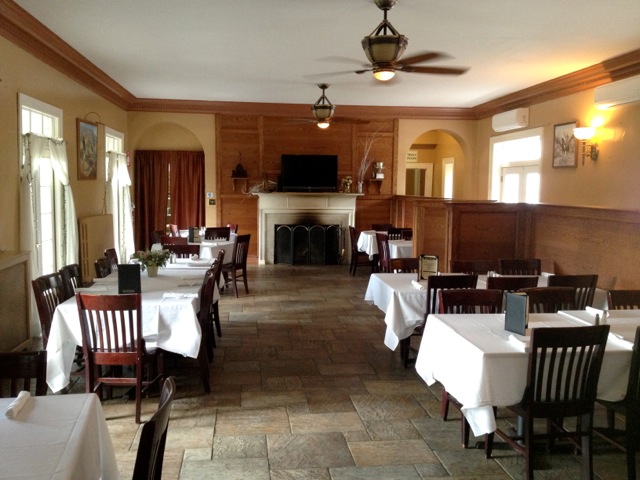 In the spring, you'll get to enjoy watching Mother Nature come back to life after a long and harsh winter. Finally green again, the golf course view is adorned with blooming flowers and fresh scents in the warm breeze. In the summer your visit will find yourself among golfers as they enjoy a round, patrons basking in the sun while enjoying brunch, and families celebrating a wedding under the tent.
In the fall, the view of the foliage is like no other on Staten Island. Bundle up and enjoy a cup of coffee from the terrace as the sun sets and the harvest moon begins to rise. It is truly an amazing sight. In the winter you can enjoy being indoors, situated by the fireplace, sipping on a glass of wine by the warm fireplace.
No matter what time of year, one thing the Veranda Café never fails to provide is a view. Here, Mother Nature always gives us her best. The vibrant summer sunset, the bright colors of fall, the snowscapes of winter and the budding flowers of spring are all reasons why the Veranda Café is the perfect place to visit any time of year.
Silver Lake Park is one of my favorite places to visit on Staten Island's North Shore. I can't think of a better way to enjoy the best views on Staten Island than from a seat at the Veranda Café.  Although it may be visited more in the spring and summer months when golf is in full swing and weddings are more frequent, in the cooler months, it has just as much to offer in great food, wonderful service and breathtaking views.
If you're interested in buying a home on Staten Island and are looking for your niche, I have so much useful information for you on my website. From information on listings, local attractions , home-buying tips and neighborhood information, you'll be amazed at how much there is to learn about Staten Island's North Shore. Please, feel free to connect with me on Facebook or Twitter and  don't forget to check out "North Shore Buzz"
Stay warm during these winter months, and, I hope to meet up with you soon!