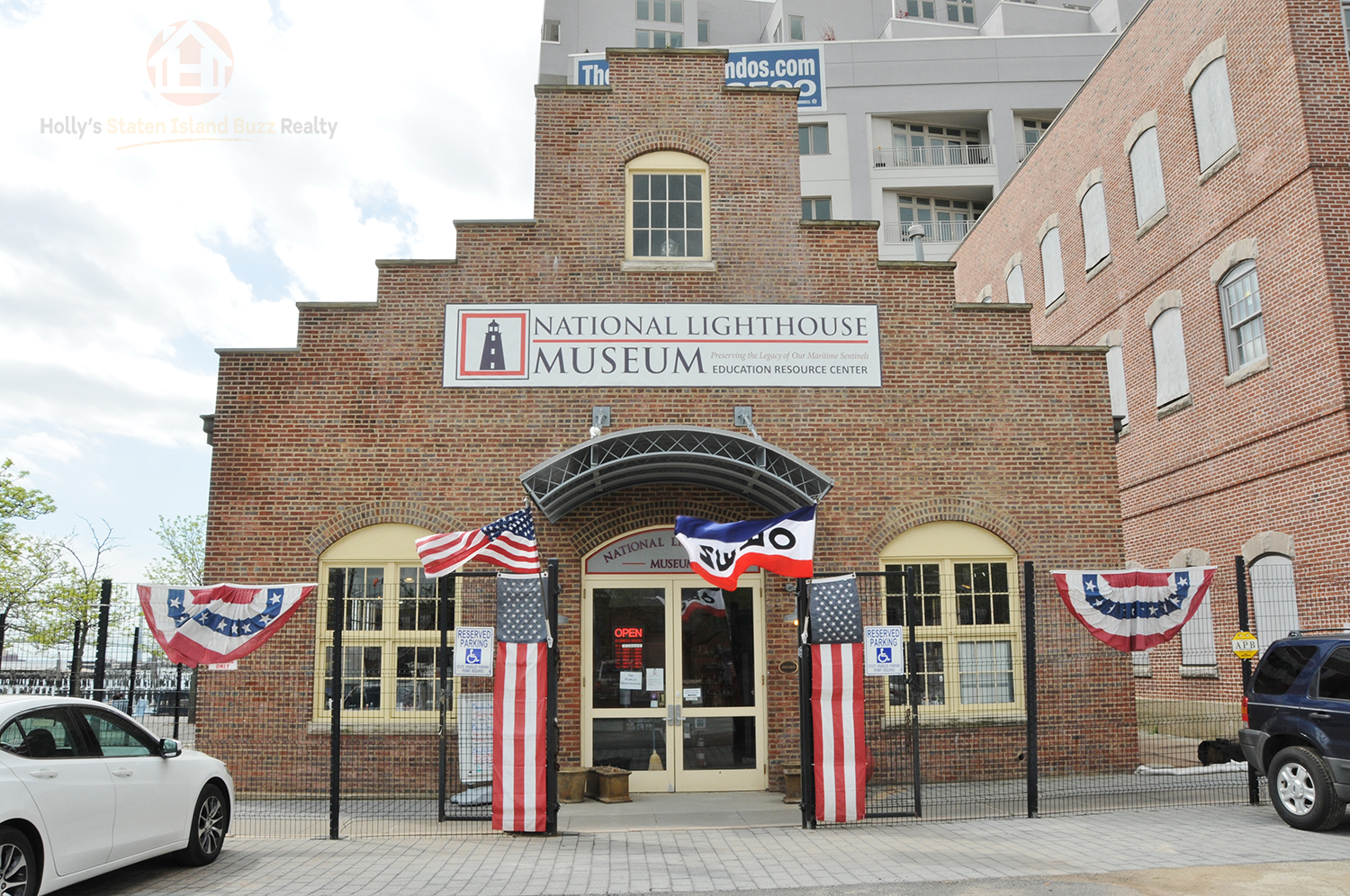 7 Must See Staten Island Sites This Fall
Staten Island is known as both the "borough of parks" and "the forgotten borough," but Holly's Staten Island Buzz Realty believes it should also be recognized as one of the most family-friendly New York City destinations. With a rich cultural history dating back to 1661 and the Revolutionary War, families will undoubtedly find many of our borough's landmarks both educational and entertaining. Here are 7 must-see Staten Island sites this fall. 
1) Staten Island Children's Museum: 1000 Richmond Terrace, Staten Island, NY 10301
Staten Island Children's Museum is located in the historical district, Sung Harbor. Although it isn't a recognized landmark, Snug Harbor's very own children's museum has entertained NYC kids since 1974 when it was founded by a group of parents. The museum opened in 1976 in a small rented storefront with one exhibit and program. A series of "hands-on, minds-on" exhibitions followed about history, the natural science, and fine arts. By 1980, space limitations drove the museum to seek a larger venue. The City of New York invited the Children's Museum to join the Cultural Institutions Group, which included plans for the Museum to relocate to the ground so the newly acquired 83-acre Snug Harbor. In 1986, the museum opened the doors to its new home. In 2003, the facility expanded to 40,000 square feet with the addition of the historic barn and the bi-level glass passageway. In 2013, the Museum completed another capital project, with the addition of a state-of-the-art tented picnic and performance pavilion on the East Meadow, and a vertical axis wind turbine and wind scoop addition to its roof. The mission of the Staten Island Children's Museum is to nurture the creativity and curiosity natural to all children, to recognize and celebrate different learning styles, and to demonstrate vividly that learning can be exciting and fun.
2) Staten Island Zoo: 614 Broadway, Staten Island, NY 10310
The biggest "little" zoo in America, the Staten Island Zoo showcases more than 1,100 animals nestled in a beautiful eight-acre park. The Zoo's collection has nearly doubled over the last two years and features over 350 species of mammals, birds, reptiles, amphibians, fish and invertebrates from six of the world's seven continents. Referred to as Barrett Park until the 1960s, the Staten Island Zoo has a long and interesting history. Since 1936, the family-friendly zoo has strived to educate college students, educators and the public about wildlife. Admission is $10 for adults and $6 for children. Children under 2 are free. 
3) Richmond County Bank Ballpark: 75 Richmond Terrace, Staten Island, NY 10301
The Richmond County Bank Ballpark at St. George (RCB Ballpark) is located on the north-eastern tip of Staten Island in historic St. George. The ballpark is the home of the Staten Island Yankees, the NY-Penn League affiliate of the New York Yankees, and of Wagner College Seahawks Baseball. RCB Ballpark has 18 regular-sized luxury suites along with a 60-person Skyline Suite with one of the best views of the harbor. A small kids' area is located down the left-field line with games. A replica of the Verrazano-Narrows Bridge is located on top of the main scoreboard.
4) Alice Austen House: 2 Hylan Blvd, Staten Island, NY 10305
Home to an ambitious Victorian female photographer, the Alice Austen House was built in 1690 as a one-room Dutch farmhouse. Referred to as "Clear Comfort" it was purchased in 1844 by John Haggerty Austen, Alice Austen's grandfather. Alice Austen herself moved there as a young girl in the late 1860s with her mother, Alice Cornell Austen, after the two were abandoned by Alice's father. In 1917, Gertrude Tate moved in, and the two lived together until financial problems forced them to move in 1945. When they left, the house fell into disrepair until a group of concerned citizens saved it from demolition in the 1960s. The house successfully gained status as a historic landmark and was restored in the mid-1980s. The home now functions as a museum comprised of exhibitions that showcase Austen's prized photographs. For a small donation, your family can see the world through the lens of one of Staten Island's most talented female photographers.
5) Snug Harbor Cultural Center and Botanical Garden: 1000 Richmond Terrace, Staten Island, NY 10301
Snug Harbor Cultural Center & Botanical Garden is the result of more than four decades of restoration and development to convert a 19th-century charitable rest home for sailors to a regional arts center, botanical gardens, and public park. It is a place where history, architecture, gardens, agriculture, visual and performing arts, and education come together to provide a dynamic experience for all ages. Snug Harbor consists of 28 buildings, fourteen distinctive botanical gardens, a two-acre urban farm, wetlands, and park land. Visitors of Snug Harbor can take a stroll through the magnificent Chinese Scholar's Garden or take in a show at its historical Music Hall. 
6) Garibaldi-Meucci Museum: 420 Tompkins Ave, Staten Island, NY 10305
The Garibaldi-Meucci Museum is owned and administered by the Order Sons of Italy in America. It was the home of Antonio Meucci, the true inventor of the telephone, and a refuge to Giuseppe Garibaldi, the legendary hero who championed the unification of Italy. For over 50 years the museum has fulfilled its mission to preserve the legacies of these great men and to promote understanding of the Italian-American heritage through cultural, artistic and educational programs and classes. With an admission price of $10, you can explore the rich and complex history of these prominent Italian figures.
7) Staten Island Lighthouse Museum: 200 The Promenade at Lighthouse Point, Staten Island, NY 10301
Located on the former site of the United States Lighthouse Service's (USLHS) General Depot in St. George, Staten Island, the National Lighthouse Museum educates visitors about the history and technology of the nation's lighthouses. The General Depot was the national headquarters, testing ground, and distribution center for all materials and equipment used by light keepers and USLHS personnel from 1864 to 1939. Once a lively and bustling site of 18 buildings, today only 6 remain. It is 2,400 square feet and is self-guided. Museum exhibits include Beacons Through Time, Supplying the Nation's Light Stations: The General Depot, Optics: Projecting the Light, Life at the Light: Lighthouse Keepers, and much more! Children under 12 can enjoy free admission, while adults pay $5 per ticket for entry.
Holly's Staten Island Buzz Realty believes once you've visited Staten Island you will want to call it home – and there is simply no more beautiful time to enjoy our borough than in the fall! If you're in the market to purchase a home near one of these family-friendly locations, we can help. When you choose Holly's Staten Island Buzz Realty Inc. as your realtor we consider the needs of the entire family! Contact Holly's Staten Island Buzz Realty 4 Minthorne Street Staten Island N.Y.10301 Today! Office: #718-702-6848 or #917-414-0847
Be sure to follow Holly's Staten Island Buzz Realty on Facebook, Twitter, YouTube, and of course, Instagram!