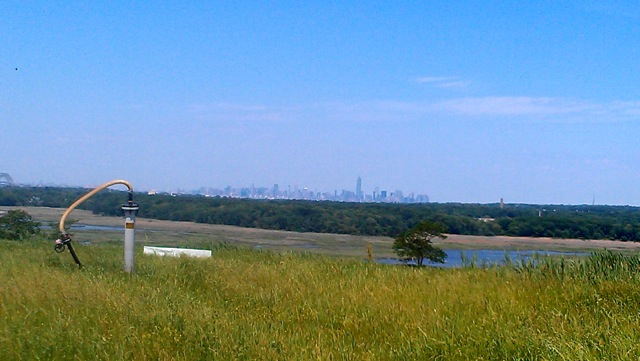 What covers over 2,200 acres, is home to hundreds of wildlife species, will be the largest park in New York City in the past 100 years, and happens to be located on Staten Island? Freshkills Park!
Normally when Staten Islanders talk about Freshkills, the last thing from their mind is a park. As the world's largest landfill, Freshkills Landfill was once a symbol of wastefulness and environmental neglect. Now, due to a massive land reclamation effort involving dozens of city and state agencies, Freshkills Park will soon be seen as a symbol of renewal and an example of how our society can restore balance and life to its landscape.
Developing a park this size within the city limits is in itself is a huge undertaking. But, if you've been around to see what Fresh Kills once was and have had the opportunity to see what it has become in just a few years, then this transformation is amazing, exciting, and definitely worth talking about.
The History of Fresh Kills
A little history for you: The space that is now Freshkills Park was first settled by the Lenape, a tribe of Native Americans that first inhabited Staten Island. The Dutch settled in the area next, and named the area Fresh Kills, after the Dutch word meaning "riverbed" or "water channel." As Staten Island began to develop in the mid 20th Century, the City of New York established the area as a landfill in 1948. Over the next 5 decades, the landfill continued to collect Staten Island and eventually all of New York City's waste, until March of 2001, when it received its last barge of garbage.
From Landfill to Park
There is said to be over 150 million tons of garbage in the space, but you wouldn't know it if you were to take a tour of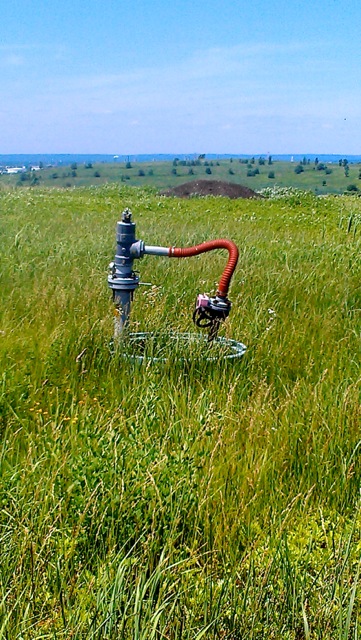 the site today. Although the park landscape has many natural features, it is highly engineered underneath. It is mind-blowing to know that right below a layer of planting soil is a network of barrier protection material, drainage layers, gas vent layers, and soil barriers– all surrounded by impermeable plastic liners that surround the waste that is underneath. All of these systems function to prevent waste and its byproducts—landfill gas and leachate—from migrating into the surrounding environment.
In fact, these systems also collect and purify these byproducts. For example, the landfill gas collected through the 900+ gas wells located around the site is sent to an on-site purification facility, where the methane gas is extracted and sold for use in providing energy to local homes. The leachate is also collected and pumped into an on-site treatment facility where it is purified before being released into the Arthur Kill.
Among these aspects of the park's infrastructure is the design for five major park sections that will accommodate a wide range of uses; including cultural, athletic, and educational programs. The park will provide visitors with opportunities many other city parks do not; including mountain biking, horseback riding, kayaking, cross country skiing, environmental education and even barge gardens. All of the sections of the park will be connected by a series of multi-use paths and roads to accommodate vehicles, bicyclists, pedestrians and equestrians alike.
Return to Nature
But this park is not just a park purely for recreational purposes only. Throughout my tour, I came to understand just how much the plan and design of the park is mission driven, with a focus on providing recreational activities all while encouraging and promoting ecological restoration. Currently, there are nine habitat types currently occupying the Freshkills Park site and many animals have already reclaimed Fresh Kills as their home. While supporting diverse habitats, the park is the perfect setting for recreation, as well as cultural and educational programs that focus environmental sustainability and our human impact on the earth.
Visitors can expect to see amazing views of Staten Island and the Manhattan skyline right beside a natural landscape of wetlands, marshes, grasslands, waterways and meadows. On my tour, I witnessed a killdeer protecting its nest in the grasslands, and an osprey family perched in its nest upon a high post in the freshwater wetlands. Both of these are examples how efforts to create a sustainable habitat for the existing bird, mammal, fish, crustacean and even insect communities at the site have so far been successful.
Current Recreational Opportunities
Although the park will continue to be developed in phases over the next 30 years, development over the next few years will focus on providing public access to the interior of the site through programs that will showcase its natural and engineered beauty. Below are some examples of how you can get a sneak peek of Freshkills Park this summer and fall:
Hiking: Open to anyone looking to escape the city for a while, or to veteran hikers looking for a unique experience. Join our team for a one-of-a-kind walk-in-the-park. Stretch your legs with us on this 2 mile trek which includes moderate to steep elevations.
Kayaking: Join the Freshkills Park Team and Kayak Staten Island for a kayaking experience like no other! Kayak along the Fresh Kill and see the Park from a different perspective. This three hour excursion will take you into the William T. Davis Wildlife Refuge and up close to some of the varied wildlife that calls Freshkills Park home. Kayaks, life vests, and brief safety training will be provided. Kayak events are currently limited to participants ages 18 and up in good health and with basic swimming skills. Be prepared to get wet! Kayak Programs at Freshkills Park are possible with support from the Downtown Boathouse.
Site Tours: Site tours are approximately an hour and a half long, and tell the story of the past, present and future of Freshkills Park development via a guided bus ride through the site. Stops at the top of the park's hills offer beautiful panoramic views of Staten Island.
Birding: By Kayak- Staten Island Museum naturalists will be on hand to guide our journey into the meadows and wetlands of Freshkills Park to spot songbirds, waterfowl, and raptors. This three hour excursion will take you into the William T. Davis Wildlife Refuge and up close to some of the varied wildlife that calls Freshkills Park home.
Birding: By Bus- Staten Island Museum naturalists will be on hand to guide our journey into the meadows and wetlands of Freshkills Park to spot songbirds, waterfowl, and raptors. Expect to see different species every season, grab your binoculars and come explore.
Sneak Peek– September 28, 2014 starting at 11am. Sneak 'Peak' is a one-day festival celebrating Staten Island's landfill-to-park masterpiece, Freshkills Park, an icon for the 21st century. Come see the park in its current glory and learn about its future.
Visit the Freshkills Park Alliance website at www.freshkillspark.org for more information on these opportunities.
If you are looking to buy a home on Staten Island and want to know more about what Staten Island has to offer, please don't hesitate to contact me on Facebook or Twitter Even better, my website is full of helpful information about the different North Shore neighborhoods, local businesses, news and events. Don't forget to check out North Shore Buzz for video interviews and home-buying tips.
There are two kinds of Real Estate professionals…those who understand the emotional and financial complexity of selling or buying a home…and those who don't. Look forward to meeting up soon!