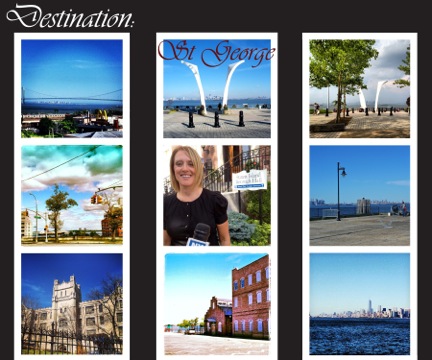 The year 2013 was a time of exciting developments across Staten Island's North Shore. Last year, Staten Island made national and worldwide headlines through the announcement of the plans for the New York Wheel and Empire Outlets, while locally, a number of small businesses opened up in vacant storefronts across the North Shore that contribute both vitality and service to Staten Island residents and visitors. It has been so exciting to see Staten Island's North Shore come alive through the revitalization efforts. I am so excited to see what 2014 will bring!
Things to look out for in 2014
From major projects like the New York Wheel, to small business developments, there are so many things I will be keeping my eyes on this year. Of course, the New York Wheel, Empire Outlets and the National Lighthouse Museum have been of great interest to me, so be ready for news and videos regarding these projects, which are all set to begin this year.
On a side note, I have heard, unofficially, that the National Lighthouse Museum has met their fundraising goal, which now allows them to lease the space on Bay Street so they can begin to renovate and restore the old lighthouse depot to accommodate the museum. Congratulations!
In related news, the St. George neighborhood of Staten Island was just named New York City's neighborhood of the year in the annual online Curbed Cup Championship.  Seeded 15th, St. George beat out Brooklyn's Greenpoint. "Big congratulations to the underdog with lots of heart — at least as displayed by many spirited commenters, anyway — you are 2013's neighborhood of the year. May your giant observation wheel and mega outlet mall breaking ground this year be the catalyst and everything else you hope it will be," the Curbed website stated Thursday in an announcement of the winner. 
As for the other things that I have covered this year on my website, highlighting new businesses is perhaps my favorite. According to the Staten Island Chamber of Commerce, new businesses are opening up everywhere on Staten Island, especially in the North Shore waterfront neighborhoods of St. George, Stapleton and Tompkinsville.
Here are some places I can't wait to check out in 2014:
Gatsby's on the Bay: Located at 695 Bay Street, this restaurant brings the Roaring 20's back to Staten Island and features dynamic and malleable New American cuisine.
Staten Island MakerSpace: See your ideas come to life at Staten Island's first business incubator, where everyone, from skilled artisans to weekend hobbyists, are encouraged to "dream, create, make." View my blog on MakerSpace for more information.
Flagship Brewery: Soon to open next month, this brewery will be the first to open on Staten Island since the 1960's. The best part: some of their beer will be seasoned by hops grown at Staten Island's Silver Lake Golf course.  Be sure to check back here for more information!
New businesses, restaurants and the opening of Staten Island's first business incubator (MakerSpace) are all signs that Staten Island's economy is gaining momentum. As a result, the Staten Island Chamber of Commerce has just launched a new campaign called "Call the Chamber," which aims to inform the public about what the Chamber of Commerce can do for both consumers and business owners.
Setting goals for 2014
Besides providing positive real estate services for my clients, one of my goals for 2014 is to continue to highlight and feature the wonderful aspects of Staten Island's North Shore. I love to use my website and North Shore Buzz as a way to promote Staten Island's different North Shore neighborhoods.
I believe that my website and North Shore Buzz are effective resources for potential home buyers who want to get a feel for a neighborhood before they commit to buying there. By featuring small businesses on North Shore Buzz, by listing the different neighborhood points of interest on my website, and by writing blogs that highlight the latest North Shore news, I provide a unique service to both Staten Island residents and potential residents who are interested in knowing what Staten Island has to offer. This type of information is so valuable when looking to buy a home.
I hope that 2014 will give me many more opportunities to enhance these aspects of my career:
North Shore Buzz: Want to know more about developments like the New York Wheel? Interested in small businesses like Honor Wines? On North Shore Buzz, I provide video interviews of people and businesses on Staten Island's North Shore, as well as informational interviews pertaining to different aspects of the real estate process. In 2013, after one year of research and hard work, I was able to release my first neighborhood video, highlighting the St. George section of Staten Island. In 2014, I hope to provide even more North Shore Buzz resources to my viewers.
If you know of a small business on Staten Island that you would like to see featured on North Shore Buzz, contact me on Facebook or Twitter, or, send me an email through my website.
My Website: This past year I have been able to add a lot of useful content to my website. In 2014, I hope to continue bringing you weekly blogs, and I also hope to add more information to the neighborhood section of the website. This is where potential home-buyers (and residents) can see the different attractions, points of interest, and small businesses within each neighborhood. In 2014, I hope to add more neighborhoods and add more items to the north shore neighborhoods that are already represented.
What are your goals for 2014? If one of them involves buying a home on Staten Island, look no further than Staten Island's North Shore Expert! My website is full of useful information for potential home buyers and Staten Island residents alike. I look forward to bringing you the latest Staten Island news, and hopefully, will get a chance to put you in a new home. Please feel free to contact me on Facebook or Twitter Hope to meet you soon! Happy New Year!