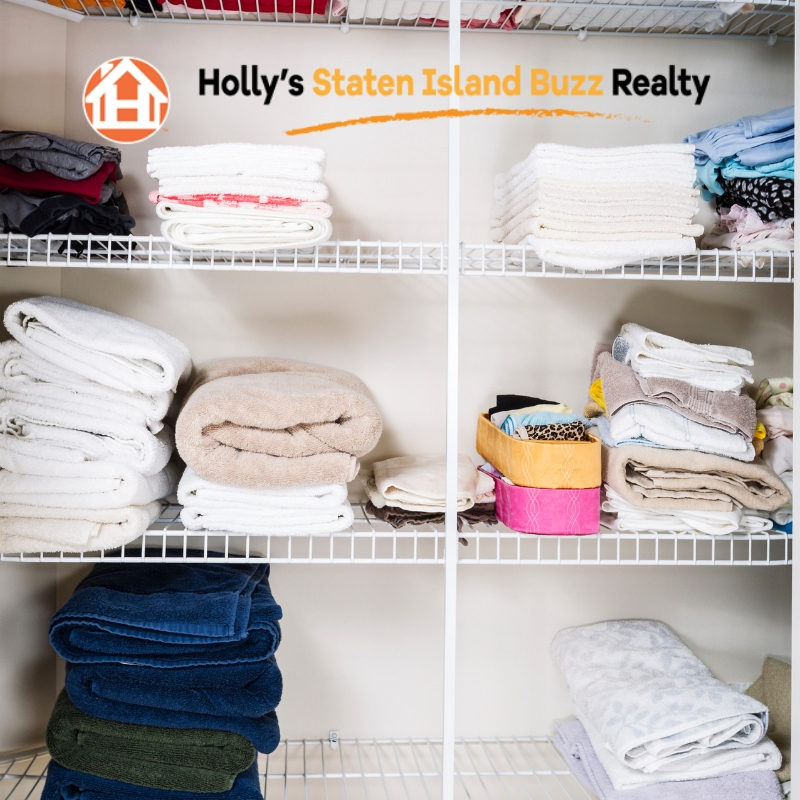 It may be hard to believe but we're already more than halfway through 2019! As we look towards these last few weeks of summer maybe we should review some of those New Year's resolutions we made. Were your plans to lose weight? Save money? Start a new career? Did you have any specific goals you may have set for your home? A home should be a sanctuary for both you and your family. Keeping it beautiful, clean, and efficient is healthy for your mind, body, and spirit.
At Holly's Staten Island Buzz Realty, we know our clients live busy and active lives. It's easy for home organizing to be a low priority on your family's "to do" list. However, when you streamline your life through organization, you ultimately help alleviate undue stress.
If you are looking to purchase a home, being organized will help you prepare for moving into your new residence. Purging old possessions and sorting through your family's most cherished mementos will ensure you take only what you need and help safeguard what means the most to you.
When you're looking to place your home on the market, you want your property to shine. It's time to declutter and put away items that may distract buyers from being able to imagine the space as their own. As we prepare to market your property through video, photography, social media and open house events; it's crucial to remember organization is key. Holly's Staten Island Buzz Realty will be there to help guide you every step of the way.
Are you ready to get started? Here's a list of 7 tips from our Instagram series, Holly's Home Organizing Tips.
Tip #1: Make A Plan: Bullet point specific areas in your home and what you want to organize. Know what household areas are your priority. Get the family involved to divide and conquer.
Tip #2: Use A Label Maker: Labels will help you to know what things are and remember where they are stored.
Tip #3: Color Coordinate: Let color be your guide. Keep pots and pans from the same collection. Buy prep tools and kitchen accessories with similar coloring. The same color palate helps unite a space.
Tip #4: Replace the Mismatched: Replace mismatched glassware and towels with a matching set. Continuity promotes organization.
Tip #5: Remove the Clutter: Remove elements of clutter from cabinets, drawers, and countertops. If you have not used it in six months, donate it or throw it away.
Tip #6: Expired Items: Check your pantry, medicine cabinet, make-up drawer, cleaning supplies and toiletries. If it's expired, toss it.
Tip #7: Organize Photos: Print several pictures from your electronic collection each week. You will now have the keepsakes forever and you don't have to worry about old electronic files becoming obsolete.
Holly's Staten Island Buzz Realty Inc. is committed to our clients. We can help you stage your home to optimize its buying and selling potential. Contact Holly's Staten Island Buzz Realty
4 Minthorne St. Staten Island N.Y.10301 Today! Office: #718-702-6848 or #917-414-0847
More about Holly's Staten Island Buzz Realty
Buying or selling a home is an exciting yet stressful time, so finding the right realty is an extremely important decision. We believe that there are two kinds of Real Estate professionals: those who understand the emotional and financial complexity of selling and buying a home, and those who don't. If the idea of buying or selling a home is perplexing to you, look no further: we work with integrity and knowledge to guarantee that your experience is unmatched.
Don't hesitate to contact us on 
Facebook
 or 
Twitter
, and be sure to visit our 
about page
. Holly can also be reached by email 
Holly@WiesnerOlivieri.com
. Find out why our clients keep recommending us as their Staten Island Real Estate company of choice!
I look forward to meeting up with you soon!