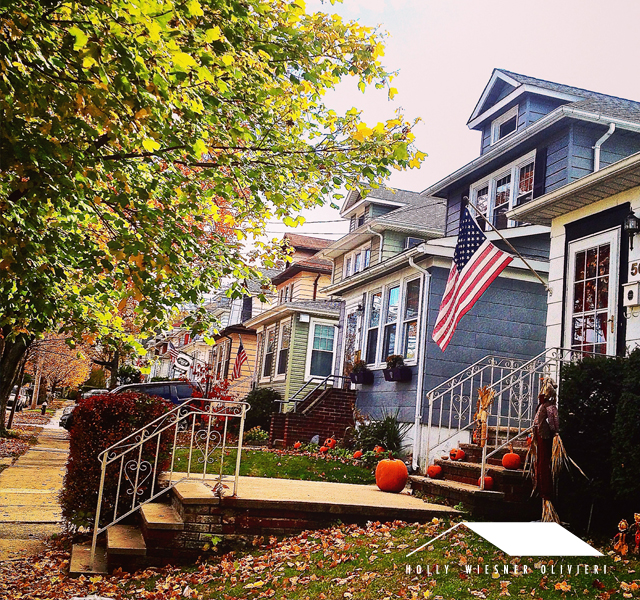 This weekend I had the joy and pleasure of bringing my granddaughter and daughter along with me on the Out of Darkness Community Walk in Clove Lakes Park. Accompanying us were my two dogs, Bello and Coco, as well as hundreds of members of the Staten Island community. As we walked to support and raise awareness about suicide prevention, I couldn't help but take away some very important lessons from one of the most important people in my life, my granddaughter.
Slow Down
It is amazing what will happen when we take time to "pause." Our lives are full of busy schedules, demands, deadlines, to-do lists and at times it seems like it will never end. And, honestly, it will never end as long as we let it. This weekend I was reminded that it is my best interest to not let a busy schedule run my life, and that by taking a 'real' break every once and a while, I open myself up to a world of blessings.
Spending the afternoon with my granddaughter is nothing new to me, but this weekend I realized that when my mind is not 100 % present with her, then I am missing out on a lot. Just watching her take in the beauty that surrounded her at the park, her excitement when we encountered another person or dog on the path, observing her track a falling leaf or a squirrel that ran in front of us… these are all things I would miss if I didn't take some time to just slow down and be present where I was.
As a busy person, this is a healthy reminder to me; even when it comes to my career. As a Staten Island realtor, my life is full of deadlines, negotiations and busy schedules. The idea of 'slowing down' doesn't seem practical, but it is necessary when it comes to communicating with my clients. In order for me to be able to listen to my clients' needs, I need to be present and listening. I also encourage my clients to step back, observe and take in the surroundings of a specific neighborhood. This process can help buyers find the perfect home in the perfect neighborhood- one that meets their specific needs and can also help sellers find the right buyer for their home.
Enjoy The Beauty Around You
My granddaughter has also recently taught me that there is beauty in what I might consider to be boring or typical. Through the eyes of a child, everything is new and everything is amazing. I tend to take advantage of the things I encounter on a daily basis, and every now and then, Ava's excitement for the simple things renews my sense of wonder.
For example, on my walk through Clove Lakes Park with her this weekend I got a chance to truly take in how beautiful that park is. Usually, I am jogging on those very same trails, with a million thoughts (and my to-do list) running through my mind. This weekend I got a chance to slow down and take in the natural beauty that surrounds me on a daily basis.
I hope that today you will take the time to stop and see the beauty that surrounds you. Who knows, today you may find newly-found beauty on a walk in the park, through a friend, even along your morning commute. When was the last time you walked through your neighborhood to look at your neighbor's houses, adorned in beautiful fall decorations? Sometimes it seems that only a child notices the wonder and excitement around us. You never know what you'll find when you slow down and take the time to look for it.
Play
Children are social beings. They love new faces, and are not afraid to invite other children into their play group or engage adults in conversation. I didn't realize how isolated my adult life can be at times until I watched my granddaughter interact with new people this weekend. Her friendly smile, her excitement to see young children her age; it all reminded me of the importance of getting out and engaging with my community.
As a North Shore Realtor, this is one aspect of my job that I love: I always get to meet new people, engage with the community and connect with others. Sometimes, the people I meet end up becoming lifelong friends.
I encourage you to get out into your community and "play." It is way too easy to confine ourselves to the same circle of friends, family members, co-workers or routine. Getting out into the community and meeting new people can open up a whole new world for us. What I love about Staten Island is that each neighborhood and community has a 'heart and soul'- a unique dynamic that makes it special to its residents.
Need help finding out what is going on in your community? My website is full of information on upcoming events that are taking place within the many communities of Staten Island.
Every Day Can Open Up A World Of Opportunity
Ava is officially walking, which has turned our world upside-down. We are so excited for her as she is able to explore the world from a whole new perspective! It is amazing to see how much confidence she has gained, just by taking a few small steps. This leads me to my last point- sometimes that's all it takes- a few small steps, to open up a world of new opportunity.
Whether you're pursuing a new career, interviewing for a job, or looking to buy a new home, it only takes a few steps in the right direction for amazing things to happen! If you are looking to buy Staten Island real estate and want to know more, please don't hesitate to contact me on Facebook or Twitter. Even better, my website is full of helpful information about the different North Shore neighborhoods, local businesses, news and events. Don't forget to check out North Shore Buzz for video interviews about what's new and exciting in the North Shore community and surrounding areas.
I look forward to meeting up with you soon!