Memorial Day weekend marked the opening of New York City's beaches, including the four Staten Island beaches at Midland Beach, Wolfe's Pond Park, South Beach and Cedar Grove. If you haven't been down to the beach lately, I highly recommend a visit. This year, beach goers get to enjoy a new attraction at the Boardwalk at Midland Beach: Fantasy Shore Amusement Park.
As far as Staten Island Amusement Parks go, the only one I have heard of is the Happyland Amusement Park, which operated at South Beach from 1906 to about 1935. Since then, most Staten Islanders have been traveling down to the Jersey Shore to places like Point Pleasant to get their fill of attractions, rides, food and entertainment.
Is it possible that something similar may be in store for Staten Island in the upcoming years? With all of the North Shore developments and the "Staten Island Renaissance" in full swing, it wouldn't surprise me if we soon heard about major plans for Staten Island's beaches. Perhaps Fantasy Shore is just the beginning of a new wave of attractions to hit Staten Island beaches?
Get Back to the Beaches!
New York Carousel Entertainment, the park's operator, hopes that the park will eventually become a permanent fixture, and will expand beyond kids' rides; offering thrill rides, food, and merchandise as well. For now, however, the company has been given a temporary license agreement by the city Parks Department to operate the amusement park.
Opening just a few days ago, the seaside attraction offers kid-friendly rides such as the "Verrazano Viper" and "Tea Side Sea Cups," among others. Supposedly, there is a rollercoaster ride as well. The park's location is near Seaview Avenue on Father Capodanno Boulevard and will be open on weekends until June 25, and then daily throughout the rest of the summer. There is no admission to get into the park, but you will need to pay per ride.
With so many wonderful parks and green spaces on Staten Island, hopes are this new addition will draw more people out to the beach.
Conservation Carousel
Fantasy Shore isn't the only ride to open up on Staten Island's North Shore. Very soon, the Conservation Carousel will offer rides for children at the Staten Island Zoo. The carousel features endangered species such as the Komodo Dragon, koala and polar bears, the rhinoceros, and pink flamingos. As an educational tool, it aims for fun but also to teach children and parents about these species and the importance of conservation.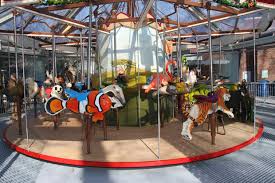 Hopefully, the carousel will be ready in time for the Conservation Celebration at the Staten Island Zoo, set to take place on June 1. Both the carousel and the new Amur Leopard Exhibit (one of the largest outdoor Amur Leopard exhibits in the country) are recent additions that are sure to bring more visitors into the zoo.
The Big Picture
Although these attractions may seem small in terms of the much bigger plans for the North Shore (Empire Outlets and the NY Wheel, for example), they are both examples of how Staten Island is finding a spirit of renewal and revitalization. Whether it be through the restoration of our beaches after Hurricane Sandy, or improvements and upgrades to our only zoo; the investments being made here on Staten Island lead me to believe that we have an extremely promising future ahead of us.
Staten Island has always been a wonderful place to live and work. If you're interested in buying a home on Staten Island, now is the perfect time to look. If you check out my website, you'll find tons of information about the different neighborhoods, local businesses, news and upcoming events. Please don't hesitate to contact me on Facebook or Twitter, and, don't forget to check out North Shore Buzz  for video interviews and home-buying tips.
There are two types of Real estate professionals….those who understand the emotional and complexity of selling or buying a home…and those who don't.
Look forward to meeting up soon!