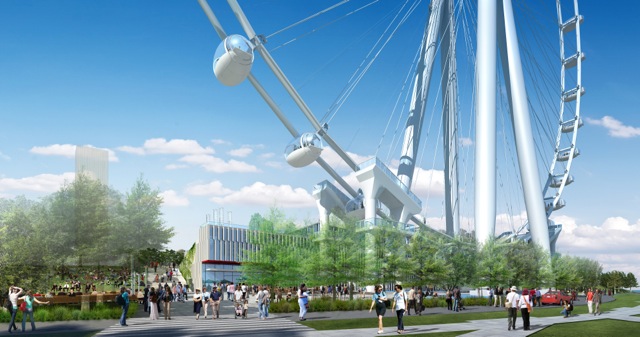 Back in April, I wrote about some of the most recent North Shore developments, including the Accolade Condos and Lighthouse Point. I am excited to bring you some more information about the New York Wheel and the New York Water Taxi, which promises to become one of New York City's greatest landmark attractions. Read on to find out more about what the 60-story attraction will bring to Staten Island's North Shore.
The Wheel Basics
Accommodating up to 1,440 people per ride, the New York Wheel will welcome an estimated 30,000 people per day (that's over 4 million per year) to Staten Island's North Shore. Easy access from the Staten Island Ferry and other transit like the New York Water Taxi and public transit will surely make it attractive to the thousands of tourists that already ride the Staten Island Ferry every day. Offering 38-minutes of spectacular views of the New York City skyline, downtown Manhattan and New Jersey, the observation wheel will also provide many educational and digitized exhibitions that showcase both New York City history and alternative energy as well.
A Green Promise
Hopes are that both the Wheel itself and the Wheel Terminal Building will achieve Platinum LEED certification, which designates that it is a 'green' and 'sustainable' building. Because of its location on north shore of Staten Island, the natural environment that surrounds it offers many sustainable energy sources, such as wind, sun and water. The goal is to generate a significant amount of power, not only to power the wheel, but to create excess energy that can be used for the borough as well. Certainly, the green space and the use of green energy will be a wonderful example of how to utilize natural and sustainable resources.
Staten Island Impact
Many residents are curious as to what type of economic impact the Wheel will have on Staten Island. The Wheel itself will create about 350 construction jobs and 600 permanent jobs, and the plan is to use local Staten Island and unionized labor and business services whenever possible (100% union labor for the construction of the site).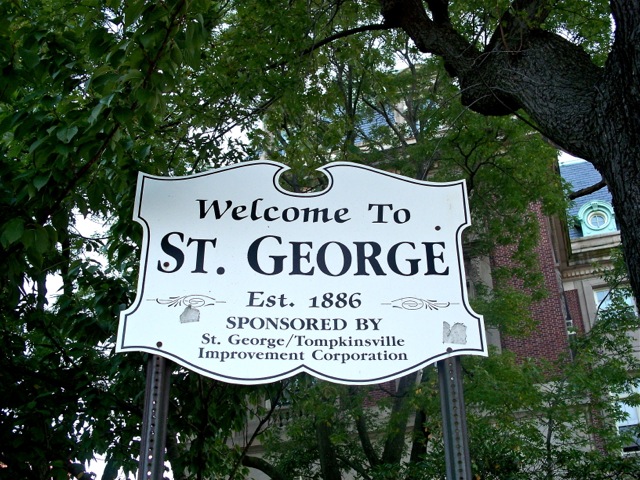 The Wheel will also help improve the local economy by drawing tourists out of the Staten Island Ferry Terminal and out into Staten Island's historic and cultural scene. Residents and tourists alike will get to enjoy places like Historic Richmond Town, the Staten Island Zoo, and Snug Harbor Cultural Center and Botanical Gardens. Other attractions are also in the works, such as Empire Outlets and the National Lighthouse Museum at Lighthouse Point. There are even talks that Richmond County Ballpark is considering hosting concerts in their new line of programming, making even more incentives to stay and visit Staten Island.
What is even more exciting is how community not-for-profits will also benefit from the New York Wheel. Beginning in 2016, when the Wheel is expected to start operating, New York Wheel developers and BFC Partners (developers of the outlets), plan to contribute $50k (each) per year to the North Shore Foundation. This organization is comprised of a board of directors who will allocate funding through the form of grants to local organizations that focus on education, culture and job training.
Getting Here: The New York Water Taxi
There is no doubt that tourists and visitors drawn to these major developments will most likely take the free ride on the Staten Island Ferry as their means of transportation to downtown Staten Island. But will the Staten Island Ferry be capable of transporting the anticipated amount of visitors that will want to visit our North Shore? Or, will ferry companies such as New York Water Taxi, BillyBey Ferry Co., Statue Cruises and Seastreak seek to drop off their riders on Staten Island as well?
As negotiations with the New York Wheel and BFC Partners are underway, plans to build and operate a new ferry landing, just a short distance from the current Staten Island Ferry Terminal, are being considered. In fact, New York Water Taxi has already signed a letter of intent with the developers to add a stop at St. George to its existing tour package, which makes stops in Brooklyn, lower Manhattan and midtown. Some companies, such as Statue Cruises, are considering running an entirely separate boat to Staten Island, instead of just adding a stop on their tour.
This news is not only good for tourists, who might want easier access to Staten Island, but also for Staten Island commuters looking for direct service to midtown, or Brooklyn and are willing to pay a small fee. As time goes on, it will be interesting to see what new transportation methods and options are offered to both tourists and Staten Island residents alike.
I can't wait to see what's in store for Staten Island. This certainly is the perfect time to look for a new home if you've considered moving to the North Shore. If you are looking to buy a home on Staten Island and want to know more, please don't hesitate to contact me on Facebook or Twitter. Even better, my website is full of helpful information about the different North Shore neighborhoods, local businesses, news and events. Don't forget to check out North Shore Buzz for video interviews and home-buying tips.
There are two kinds of Real Estate professionals…those who understand the emotional and financial complexity of selling or buying a home….and those who don't.
Thank you and have an extraordinary day!