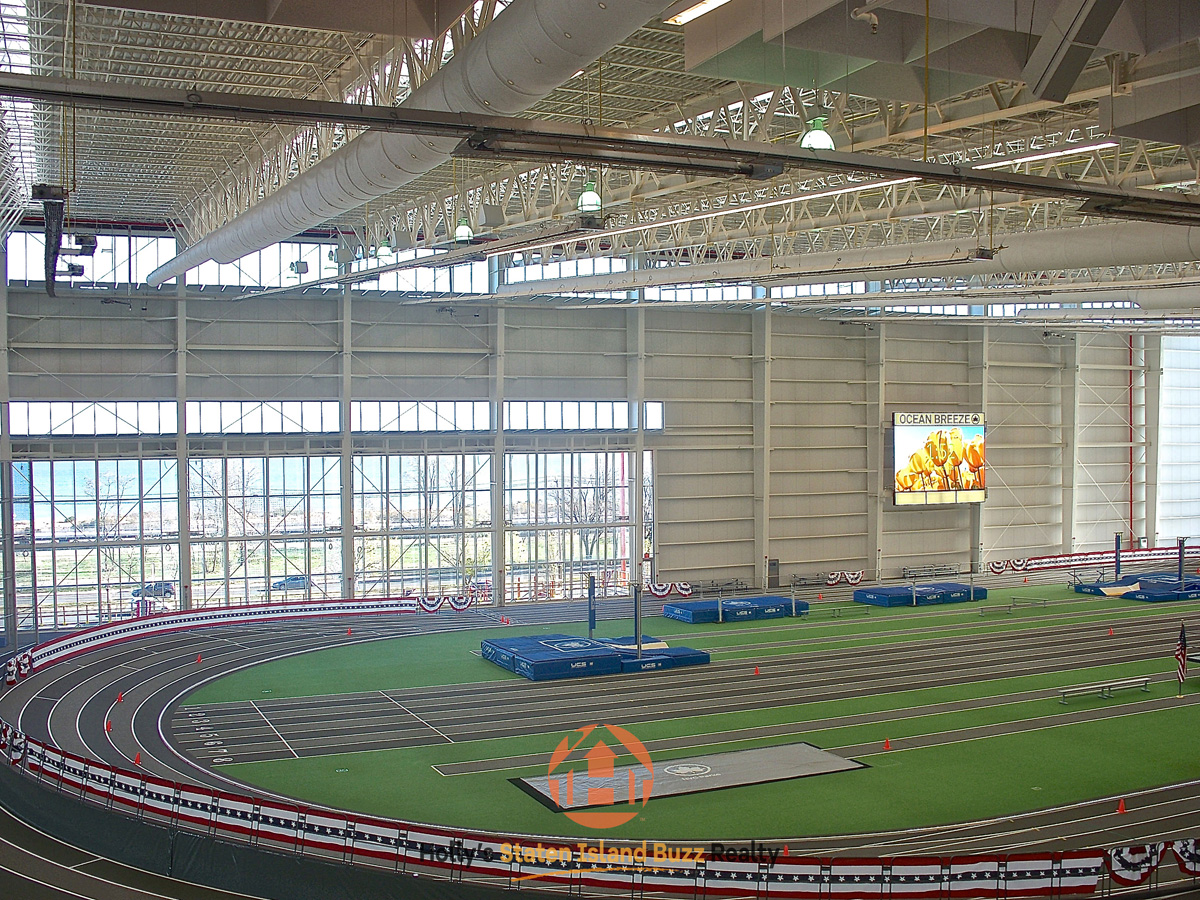 As a mother of a track and field athlete, I remember those days well: driving up to the Armory Track and Field Center in Manhattan to watch my daughters participate in Indoor Track. This venture included a one-hour-long drive each way (with another hour to find parking), limited seating, and thousands of athletes. Watching one or two races ended up being an all-day event.
Of course, it was all worth it, and now my daughter a Staten Island High School Track & Field coach, heads up to the same Manhattan Armory located near the George Washington Bridge to coach her team. Until now, the Armory has been the only place Staten Island Indoor Track and Field athletes have been able to race or train at during the winter months. From experience, I know and understand how taxing this is to both athletes and their families alike. But all of this is about to change now that the Ocean Breeze Track and Field Complex is opened up to the public! Make sure to check out 10 important things you should know about the new athletic complex.
The Final Stretch
It has been a long time coming, but the city Parks Department has announced that the facility located at 625 Father Capodanno Boulevard is now open. The $93 million athletic complex includes a modern, glass-walled, 135,000 square foot building consisting of a track, cardio and fitness rooms, covered parking lot and landscape that has preserved the surrounding wetlands.
The competition area consists of a hydraulically-banked competition track that can convert from eight to six lanes, jumping and vaulting pits and a throwing area. A warm-up area featuring fitness and cardio rooms will also be part of the facility.
The facility also has many sustainable features, including geothermal heating and cooling, water harvesting systems, a "cool" roof and recycled materials. Ocean breezes and natural light will provide natural ventilation and lighting that will nearly eliminate the need for artificial sources.
Propelling Staten Islanders Toward Lifelong Fitness
Hopefully, this addition to Staten Island will encourage and motivate adults and children to participate in healthier lifestyles, and will provide the means to do so. I was thrilled to check out the Ocean Breeze Track and Field Complex, and encourage you to do the same. I look forward to getting in a healthy workout and watching some indoor track races!
More about Holly's Staten Island Buzz Realty
Buying or selling a home is an exciting yet stressful time, so finding the right realty is an extremely important decision. We believe that there are two kinds of Real Estate professionals: those who understand the emotional and financial complexity of selling and buying a home, and those who don't. If the idea of buying or selling a home is perplexing to you, look no further: we work with integrity and knowledge to make guarantee that your experience is unmatched.
Don't hesitate to contact us on Facebook or Twitter, and be sure to visit our about page. Holly can also be reached by email Holly [at] WiesnerOlivieri [dot] com . Find out why our clients keep recommending us as their Staten Island Real Estate company of choice!
I look forward to meeting up with you soon!