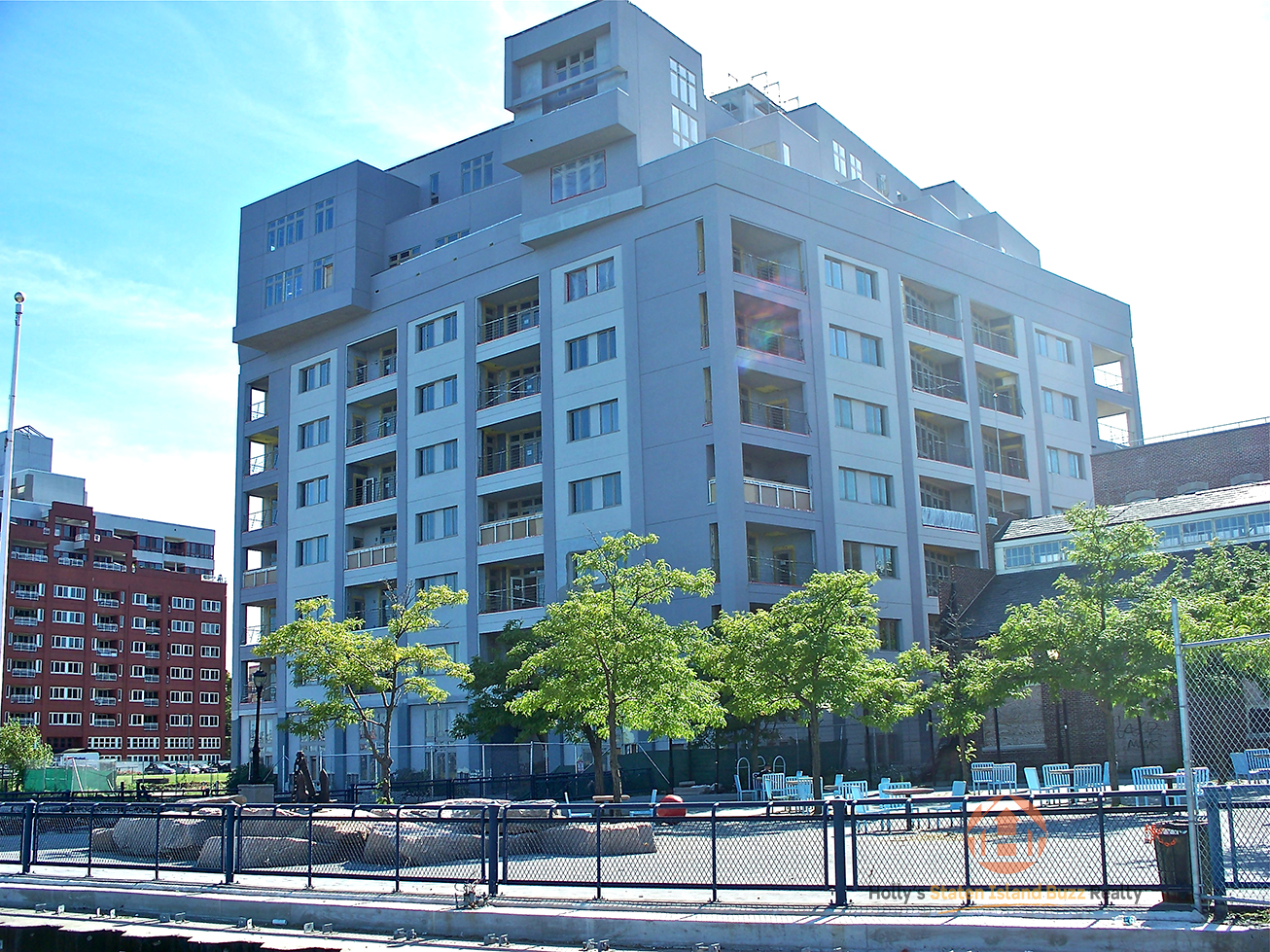 The North Shore's historic St. George district is known for both its charm and convenience. With close proximity to the Staten Island Ferry, residents who call this community home can enjoy a 25-minute FREE ride to Whitehall Street, Battery Park, and Manhattan's Wall Street district. Holly's Staten Island Buzz Realty, Inc. is proud to assist our clients with purchasing waterfront properties — recently breaking a record condominium sale for The Accolade Condos at 90 Bay Street Landing!
History of Bay Street Landing
In the late 1980's, several waterfront warehouses overlooking New York Harbor were converted into the architecturally significant complex known as Bay Street Landing. This pet-friendly, five-building community of co-op and condo lofts is home to many medical, legal, financial, art and design professionals. Bay Street Landing provides the perfect combination of privacy, security and tantalizing amenities.
The Accolade – Condos @ 90 Bay Street
As one of the five buildings that encompass Bay Street Landing, The Accolade Condos @ 90 Bay Street, offers a collection of pristine condos, including many with spectacular waterfront views. Residences include studios, one, two and three-bedroom units. Each unit features a sophisticated, elegant design. The Accolade's expansive interiors provide a blank palette for unlimited decorative possibilities. Windows that stretch from hardwood floors to soaring ceilings deliver buyers panoramic views in every direction. These luxury units also offer stylish chrome, marble, and stainless steel finishes including a stackable washer and dryer and individual climate control. Select units offer a private outdoor space for relaxation throughout the seasons.
On-Site Amenities
Tennis Anyone?: Bay Street Landing has two beautiful tennis courts – FREE for residents to enjoy. The courts are well maintained, in a serene and peaceful setting.
Exercise Facility: Feel free to cancel your gym membership. You can enjoy a healthy lifestyle at Bay Street Landing without ever leaving home! Create your own exercise program before or after work, or get fit any time of day or night. The exercise facility offers a wide selection of free weights, universal-type machines, treadmills, stationary bicycles and much more. The HOA charges a yearly fee for membership in some of the buildings.
Parking: Every apartment has at least one designated parking space. Expecting guests? Notify your private security and they will provide a visitor's pass so friends and family may park inside the gated community. Street parking is also available.
Picnic On Property: Bay Street Landing offers a picnic and outdoor party area, equipped with gas barbeque grills, a canopy, picnic tables and plenty of space to enjoy the outdoors!
Children's Playground: Bay Street Landing is a wonderful place for families with children! Kids can enjoy a playground with slides, climbing wall, net, and three crow's nests!
Dog Run: As a pet-friendly facility, Bay Street Landing's fenced-in dog run will equally allow members of your furry family to enjoy waterfront living. Mix and mingle with fellow pet-loving residents right on site!
Interested in exploring The Accolades @ Bay Street Landing? Or any of the Bay St. Landing Buildings? Does the charm of historic Saint George appeal to your home buying needs?
Then, CLICK HERE to see my current listing of 48 Bay Street Landing, another SPECTACULAR DUPLEX TOWNHOUSE FOR SALE! It's a magnificent totally renovated & transformed 2000 sq.ft 2+ bedrooms, 2.5 baths Luxury Duplex co-op in St.George! Check it out on our featured 3D Virtual Tour link! 5 minutes to the ferry, quick & easy commute to Manhattan! Luxurious Grand Entrance with soaring 18ft. ceilings & Amazing Dramatic overhead mezzanine. Pristine Italian porcelain tile flows thru-out the entire first level. You don't want to pass up this amazing property! Contact Holly's Staten Island Buzz Realty 60 Bay St. Suite 701 Staten Island N.Y.10301 Today! Office: #718-702-6848 or #917-414-0847