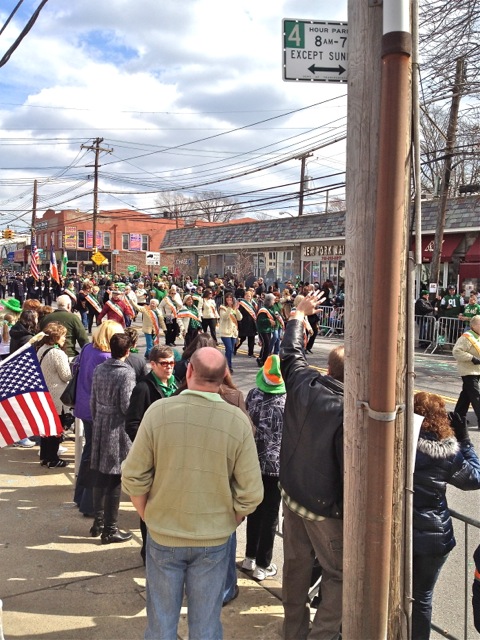 This Sunday, March 6, 2016, marks the 52nd annual Staten Island St. Patrick's Day Parade. The parade, which runs along Forest Avenue from Hart Boulevard to Jewett Avenue, not only celebrates Staten Island's deeply rooted Irish heritage, but it also captures the unique community feel and enthusiasm that is so characteristic of Staten Island's West New Brighton neighborhood.
If you've ever thought about buying a home on Staten Island's North Shore, come join us this Sunday and you'll see exactly why West New Brighton is a great place to live and work.
The Irish; Deep Roots and Long-Standing Heritage
West New Brighton, which is roughly defined as the area around and to the northeast of the intersection of Clove Road and Forest Avenue, was first settled by the Dutch in the 1600's, and then later by English settlers. Following the American Revolution, waves of immigrants populated the area; first Irish, then Italians, many of which worked at the dry docks and ship repair facilities along Richmond Terrace and the Kill Van Kull.
In most places across the Island or even New York City, knowledge of community history and the stories of the first Staten Island settlers are often times lost as families move in and out of neighborhoods, community demographics change, or former community landmarks become obsolete.
This is not the case, however, in West New Brighton. In this community, deeply-rooted pride in family heritage and history is celebrated and shared. This area has a strong pull on its native residents, and it is not unusual to find families and businesses that have been around for three, four or five generations. From Jody's Irish Pub on Forest Avenue to Bennett's Bicycles on Jewett, there is a lot of history and pride in West New Brighton, and plenty of people to tell you about it.
A Staten Island Tradition
The St. Patrick's Day Parade, this year in its 52nd year, is just one example of a West Brighton tradition that draws thousands of Staten Islanders (along with politicians and other figureheads) to Forest Avenue for the afternoon. Sunday's parade may be the most popular event along Forest Avenue, but it certainly isn't the only event that contributes to the life of this community.
Road races, concert in the park events, little league, block parties, "strolls" along Forest Avenue and parades are only a few examples of the many community events that keep the neighbors in touch, businesses thriving and long-standing traditions alive.
No one understands the importance of community life like Staten Island's North Shore Expert. Being a part of a family business has taught me a lot about community. The Wiesner family has one of the oldest family businesses on Staten Island. Being a part of this business taught me a lot; from my family's history and the sacrifices that were made, to understanding how our business shaped the community in which we started. To be a part of the business meant that we were a part of the history of the community, and that is something to be proud of.
I find the same to be true with the families and business in the West New Brighton area. Many of the residents who currently live in this community (not just the families that have been here for generations) understand how they are shaped by their community, and understand the importance of community life.
Loving the Hometown Crowd
And nothing makes a community come alive like a parade. I love the crowd that gathers at the St. Patrick's Day Parade. No need to head into Manhattan when you have a lively, enthusiastic and "hometown" crowd right here on Staten Island. Everyone is Irish on St. Patrick's Day; and lining the parade route you'll find people of all different ages and walks of life celebrating together. My family gathers at the same spot each year, and, year after year we run into the same families. I enjoy "catching up" and swapping stories, sharing with them the joys and the trials the year has brought, and feeling once again that sense of community.
The hometown crowd also brings a big boost to local businesses, which show their enthusiasm for the parade by giving out treats, serving up corned beef or Irish soda bread, and sometimes hosting some of the prominent figureheads of our borough and city. There is so much to be proud of on this special day!
Newcomers Welcome
Although West New Brighton has deep roots and families that have been around for generations, moving in to the community doesn't make you an "outsider." In fact, the quiet tree-lined streets also see a lot of walking traffic, and it is not uncommon to know and develop relationships with your neighbors, even if you've just moved in.
I also find that West New Brighton appeals to people looking for convenience in their neighborhood as well. Everything you could possibly need is within walking distance; from grocery stores, pharmacies, banks, and salons, to pubs, restaurants and fitness centers. For families with children, solid public and private school options are available, as is local music, art and youth sports venues.
The affordability of the homes is also appealing, attracting civil servants such as teachers, fire fighters and police officers from other neighborhoods. For business professionals who might work in Manhattan, there is close access to the Staten Island Expressway or to the Staten Island Ferry for an easy commute to work.
As a diverse neighborhood, there certainly is something for everyone, even if you are not native to West Brighton or even Staten Island. It won't take long for you to feel right at home. Come join us on Sunday, and you'll see exactly why so many people call West New Brighton home.
If you are looking to buy a home on Staten Island and are interested in more information, please don't hesitate to contact me on Facebook or Twitter. Even better, my website is full of helpful information about the different North Shore neighborhoods, local businesses, news and events. Don't forget to check out North Shore Buzz for video interviews and home-buying tips.
There are two types of Real Estate professionals ….those who understand the emotional and financial complexity of buying or selling a home…and those who don't.