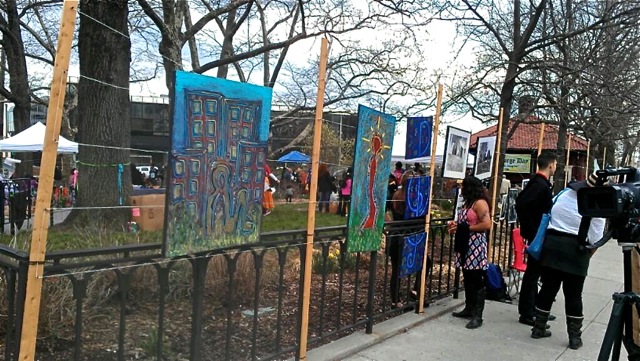 I think it is safe to say that spring has finally arrived! As a result, over the past few weeks, Staten Island's North Shore has been coming alive. After a very, very long winter, people are finally opening their doors and are connecting again with their neighbors and friends at festivals, block parties, or even yard sales. If you live on Staten Island's North Shore, chances are, your neighborhood has its own way of coming together and celebrating this time of year.
I had the pleasure of attending two community events so far- St. George Day and Snug Harbor in Bloom. Both events not only provided community members with a day of fun, festivities, and celebrating, but they were both extremely different, highlighting the unique characteristics of each community.
St. George Day
St. George Day is not your typical community festival. Yes, it celebrates community and togetherness, but unlike other festivals, this festival is used as a way to empower, encourage and celebrate a common goal: unity and togetherness.
St. George Day 2014, which was celebrated on April 26th at Tompkinsville Park, presented a movement that promotes cooperation and problem-solving instead of violence, and focuses on using creativity, human ingenuity and design science to solve difficult situations. It is a call to all Staten Islanders to celebrate diverse communities, to learn how to peacefully problem solve and respectfully interact with one another.
St. George Day provided a variety of family and youth-focused events that were centered on this theme. Local artists were able to display and sell their work; children enjoyed story-telling, interactive games, role-playing, crafts and a parade. Music and dance took center stage as over a dozen local musicians and dance groups performed on the neighborhood stage. It was truly a day of togetherness!
Snug Harbor in Bloom
Another community event that took place this past weekend was Snug Harbor in Bloom, a weekend event that involved nearly all of the grounds at Snug Harbor Cultural Center and Botanical Gardens.
Going beyond a plant sale of herbs, annual flowers, vegetables and perennials, Harbor in Bloom offered a full day of events. Residents had the opportunity to enjoy shows, tours, and museum open houses. Outdoor musical and dance performances provided entertainment while visitors toured the health & wellness plaza. What a perfect way to enjoy the spring weather.
Future Community Events: Don't Miss Out!
Every Staten Islander knows that these warm, sunny days are numbered, and it won't be long before the hot, humid days of summer arrive. So, take advantage of this month—get out and enjoy the beautiful spring weather, and while you're at it, celebrate with neighbors and friends by attending one of the many community festivals that take place this time of year.
Staten Island Children's Museum: TD Bank's Mobile Forest– May 10 from 10am-5pm.
Filled with real plants and trees, the mobile forest is a way to raise awareness on how to help keep the forests and air healthy. Supporting the efforts of Million Trees NYC, the mobile forest will be outside the Children's Museum on May 10th with fun give-aways and educational opportunities.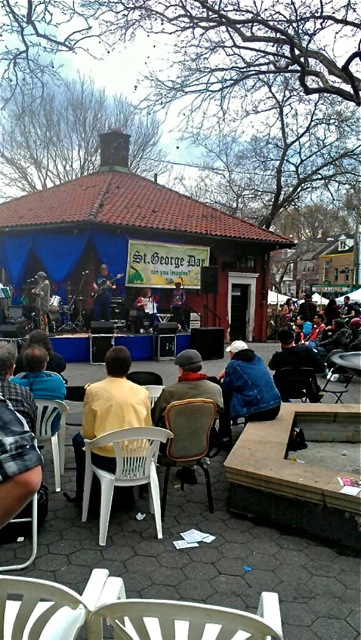 Clay Pit Ponds State Park Preserve: Mother's Day Craft: May 10 at 10am
Help make mom her own flower garden by decorating a flower pot, complete with marigold seeds.
Snug Harbor Cultural Center and Botanical Gardens: Driving Miss Daisy– May 9-18
Flagship Brewing Company Grand Opening: 38-40 Minthorne Street- May 17, 2014 at 2pm. Join the native Staten Island trio as they open up the first brewery Staten Island has seen for over 50 years! Cheers! Check out video interview at Flagship Brewing Company!!
Forest Avenue Business Improvement District: Spring ART Stroll: May 17 10am-3pm
Come out to Forest Avenue, between Hart Boulevard and Broadway, and support your local businesses and artists.
Staten Island Greenbelt: Blue Jean Ball at the Carousel in Willowbrook Park: May 22 at 7pm. Support the Greenbelt at this fundraising event.
Historic Richmond Town: Uncorked– Saturday, June 7, 12-4pm
Stroll through historic Richmond Town and sample dishes from local chefs, a taste of wine, and see traditional recipes being prepared.
These are just a few examples of the many, many community events that take place across the borough, and are just an example of why I love Staten Island's North Shore. If you are looking to buy a home on Staten Island and want to know more, please don't hesitate to contact me on Facebook  or Twitter. Even better, my website is full of helpful information about the different North Shore neighborhoods, local businesses, news and events. Don't forget to check out North Shore Buzz for video interviews and home-buying tips.
There are two kinds of Real Estate professionals…those who understand the emotional and financial complexity of selling or buying a home…and those who don't.
Look forward to meeting up soon!