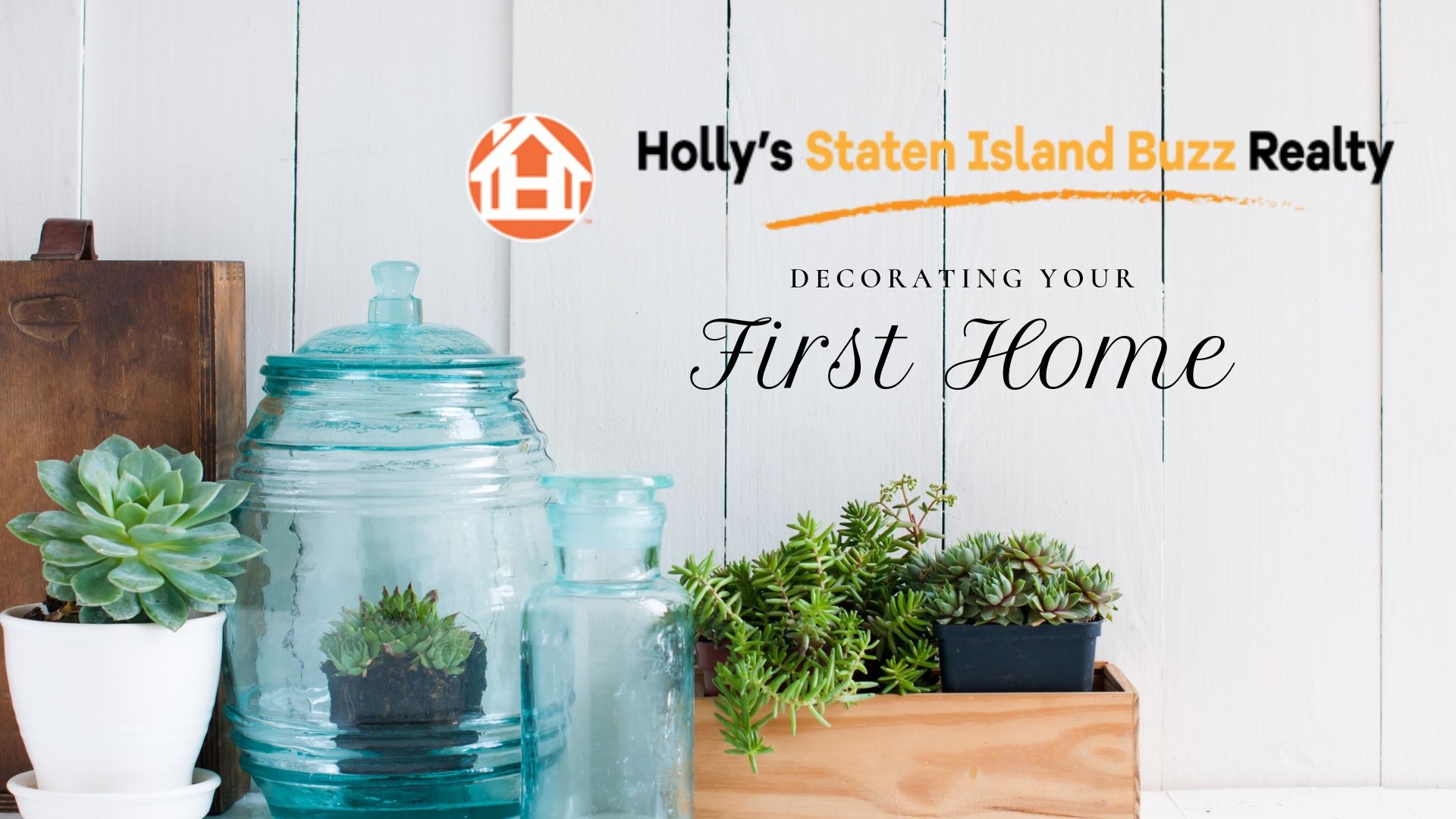 You've finally purchased your first home and you're absolutely bursting with excitement. But before you dive into a world of paint samples and fabric swatches, it's a good idea to slow down and take a deep breath. While you may be in a hurry to put your personal stamp on your new property, becoming a homeowner involves a large financial commitment. Let Holly's Staten Island Buzz Realty help you balance your checkbook while giving you some practical ideas for decorating your first home.
It may seem counterintuitive but decorating your first home actually begins with purging your previous residence. This critical first step will not only make your current digs easier to pack up, but it will help you feel less stressed during the moving process. It's a good idea to rid yourself of anywhere from 25% to 50% percent of your old stuff. Items you'll want to discard may include wobbly furniture, old linens, and those dust-collecting knickknacks you've accumulated over the years. Plan on having a garage sale, auction items off on eBay, or donate them to charity. Remember, one man's trash is another man's treasure.
Once you've got the keys to your new house, go immediately to the bedroom. Why? Because you'll be spending one-third of your life in that room! Opt for new bedding and don't skimp on thread count. If you can afford it, paint your bedroom walls to complement your new bedding. You may also want to add coordinating window treatments. Invest in a sturdy bed frame and headboard that reflects your personality and unique style.
When it comes to home furnishings, fight the urge to match. Retail stores would love for you to buy everything in sets, but don't do it! A few pieces with the same styling are fine, but any more than that and your home has the lifeless, generic look of a furniture showroom. Make sure your own personal style comes through! Your top priority should be proportion, scale, and balance of your furniture and accessories within each room. Don't overcrowd your home! In addition, use color to tie your living spaces together. If you have a splash of blue in your kitchen countertops, try to incorporate some of that color into your living room with either a piece of accent furniture or throw pillow in the same tone. Color can be the ultimate unifier.
Remember, don't bust your budget by thinking you need to buy everything all at once. A good rule of thumb is to live in your new home for at least two months before making any significant purchases. Consider how you're going to utilize your new space. Ask yourself, "what are my priorities?" If you like to entertain on a regular basis, investing money into a kitchen renovation may be more important to you than purchasing furniture for the media room. Get to know your house and give yourself time to "live" in it before making any huge purchases.
Finally, try to solve your problems inexpensively. Freshen dated kitchen cabinets with a new coat of paint and consider changing out the hardware. Replacing bathroom light fixtures or updating medicine cabinets can immediately improve the room's appearance without breaking the bank. Artwork and accent walls are also a good way to bring a new, updated vibe into what might be considered dated décor. Use what you have before getting into debt by impulse buying.
Holly's Staten Island Buzz Realty is proud to serve as a resource for all your home buying needs! Whether you need advice envisioning how to decorate your new property or require our help to stage a home you want to put on the market for sale; we are here for you!
Contact Holly's Staten Island Buzz Realty, 4 Minthorne Street, Staten Island N.Y.10301 Today! Office: #718-702-6848 or #917-414-0847. Be sure to follow Holly's Staten Island Buzz Realty on Facebook, Twitter, YouTube, and of course, Instagram for more ideas on decorating and staging your property!
More about 
Holly

's Staten Island Buzz Realty

Buying or selling a home is an exciting yet stressful time, so finding the right realty is an extremely important decision. We believe that there are two kinds of Real Estate professionals: those who understand the emotional and financial complexity of selling and buying a home, and those who don't. If the idea of buying or selling a home is perplexing to you, look no further: we work with integrity and knowledge to guarantee that your experience is unmatched.

Be sure to visit our

about page

. 

Holly

 can also be reached by email 

Holly

@WiesnerOlivieri.com

. Find out why our clients keep recommending us as their Staten Island Real Estate company of choice!