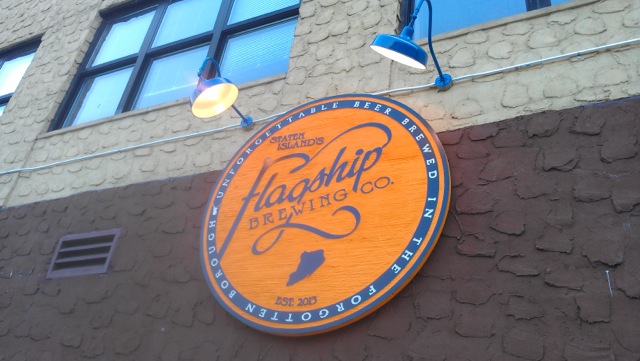 Back in early spring, I was privileged to receive a tour of Flagship Brewing Co., just weeks before its opening (for more information check out North Shore Buzz or my blog. Since then, Flagship Brewing Co. has been buzzing with activity and excitement, and the news of Staten Island's newest craft beer has made headlines.
If you haven't had the chance to head over to 40 Minthorne Street (right near the intersection of Victory Boulevard and Bay Street, just a short walk from the Tompkinsville stop on the Staten Island Railway), then put it on your list of things to do before the end of the summer. Flagship Brewery has great beer, a great atmosphere, and is definitely worth the trip.
Beer Selections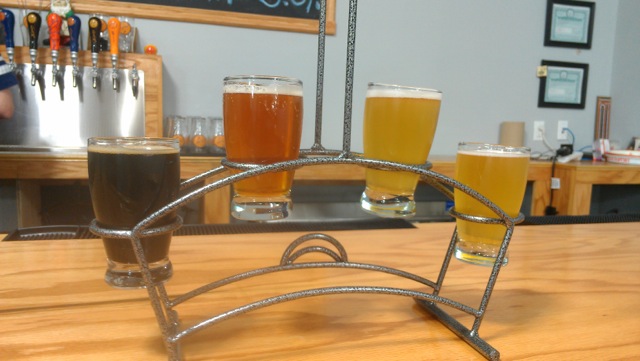 On the day I stopped in the tasting room, Flagship Brewery had four different beers on tap- their original three, and their seasonal beer. I had a "flight," which allowed me to sample all four beers. Now, I am no beer connoisseur, so I will try my best to explain to you what these beers taste like. Better yet, you could go and try them out for yourself!
The Flagship Dark Mild, which looks like it might be very "heavy," had a wonderfully smooth taste that resembled coffee with a hint of chocolate. With such a burst of flavor and such a "light" feel, the Flagship Dark Mild was the perfect gateway beer for me, a non dark-beer drinker. And although the roasted coffee flavors found in dark beer is common, I thought it was developed perfectly for Staten Island, since we New Yorkers certainly do love our coffee- we drink almost 7 times as much coffee as those who live in other major cities!
The next beer I tried was the Flagship American Pale Ale, which happens to have the highest concentration of alcohol by volume. A beautiful amber color, the APA was loaded with a punch of flavor- which was bitter at first but then resembled tropical fruit. This beer was appealing to all of the senses, and, if I dare say, represents the Staten Island temperament well. Like most Staten Islanders I know and have met, this beer has outward beauty accompanied by a variety of unique personality traits (like citrus and pine-like aromas, a burst of tropical fruit flavor). This beer is the perfect example of how what you see isn't always what you get; often times, you get much more that what you expected! What this beer also has (like Staten Islanders), is a backbone. The Flagship American Pale Ale has something to it that balances out all of its other characteristics, making it a great beer in-and-of-itself but also the perfect companion to a great meal.
My favorite beer of the evening was the Flagship American Wit beer. This beer was refreshing and light with a citrusy flavor and is the perfect beer for any occasion. I wouldn't be surprised if the American Wit ended up being the most popular beer Flagship serves to its customers; it seems to have a taste that most beer drinkers (and non-beer drinkers) would enjoy.
Trying to make a Staten Island connection to the Flagship American Wit is a little more difficult, since it is hard for me to explain exactly why I like it so much or what made me decided that it was my favorite. I guess you'll just have to try it for yourself to see what I mean. That being said, this beer actually represents Staten Island very well: try to explain to a non-islander why we love our borough so much and we can't find the words. You just have to live here for a while to understand.
Lastly, the fourth beer I tried was actually in place of the Flagship Pastime Summer Ale, their seasonal beer for this summer (inspired by the Staten Island Yankees). Even though the summer ale wasn't on tap, the beer I tasted was also light in body and was very crisp and refreshing, making it the perfect beer for a Staten Island summer. I can't wait to come back and see what Flagship creates for their fall and winter seasonal beers.
The above assessments of Flagship's beer and how they connect to Staten Island are my own personal opinions. I don't know exactly why Flagship's brew-master, Patrick Morse, developed the tastes and aromas of Flagship's beer the way he did- but I do know that it was his goal to create beer that would be uniquely "Staten Island" and would reflect what Staten Islanders prefer. Needless to say, all four beers tasted great and had some Staten Island personality traits. Like Flagship Brewing Co. itself, all are definitely "born and raised" in Staten Island.
More to Love
Another thing I love about Flagship Brewery is the atmosphere they have created in the warehouse-turned-brewery. Aesthetically, the layout is comfortable and laid back, with high ceilings, picnic tables and plenty of open space. You can bring in your own food or can order from local restaurants- like Pier 76- where you can get your food delivered straight to your table at the brewery (side note: you can also enjoy Flagship's beer at local restaurants like Pier 76 and Ruddy and Dean's).
Adding to the industrial-look are sheets of glass separating the tasting room from the brewing area, providing a nice view of where the beer is brewed. Staten Island has plenty of bars, so what Flagship offers in both product and atmosphere is what many Staten Islanders have longed for, especially those who love beer but are looking for something a little different than the "bar scene."
Even more to love are the events happening at Flagship Brewery (comedy nights, open mic, local bands, etc.), all featuring local talent. Even though Flagship's tasting room is only open Thursday through Sunday, there are plenty of things going on in terms of entertainment. Check out their events calendar here for more information on upcoming events.
It is so exciting to see local Staten Islanders make a name- not only for themselves but for all of Staten Island- by providing such a unique and high-quality product. If you are looking to buy a home on Staten Island and are in town for a visit, you must check out the Flagship Brewing Co.
Please don't hesitate to contact me on Facebook or Twitter, or check out my website for more information about the home-buying process, the different North Shore neighborhoods local businesses, or Staten Island news and events. Don't forget to check out North Shore Buzz for video interviews and home-buying tips.
Look forward to meeting up soon! Hope your having a fantastic Summer !